STREAMING & HYBRID EVENTS
Our seasoned event experts translated their combined centuries in the industry into a platform that amplifies your message. We're here to tell you that virtual events don't have to be painful.
​
We don't want to fit your event in a box. We want to build a box around your event. We want to innovate with you!
Developers of gold standard virtual environments.

Gamification and leaderboards.

Real-time reaction tracking.

Attendee sorting for unique experience pathways

Registration integration with your existing systems.

Real-time reaction tracking and live feedback analysis.
If you can dream it, we can
For years, we've been working to create highly-produced events for not only those in attendance, but the larger virtual audience as well.
​
Onsite, remote, local, near or far. We can connect your audiences like never before.
Present live in a socially responsible way to key customers.

Push content to a wider audience.

Keep things interactive and engaging.

Audience participation in Q&A's and polling

Speakers can be brought in virtually.
BRIDGE THE GAP BETWEEN LIVE AND VIRTUAL
White glove service on location.

Small, agile and COVID safe teams.

Always get the right person for the job.

Pristine equipment and appearance.
Sought after Quicklink technology.

Ability to bring in presenters from around the globe seamlessly.

Real-time feedback analysis.
Give your presenters a solution they can gain confidence with. Our Virtual Green Room enables speakers using a suite of widgets, curated to give them the information they need during their presentation.
​
Full service speaker on boarding.

Confidence and tech checks.

Staging area where presenters engage with a facilitator or producer.

Speakers can converse with each other.

Rehearse presentations.

Get virtually put on stage to present.

Removed from stage by producers when finished.
Request a demo today to see how
we're changing the landscape of
remote presenting.
Create pre-recorded content, or go live.
Take something your attendees love and turn it into a wealth of knowledge. With reactions, you can understand what people feel in real time.
During or post event you can watch reactions to see what resonated.

Can be broken into groups and customer segments.

Visually fun, powerful learning tool.

A format your users recognize.

Buttons can be customized for branding.

Timestamped per click.

Graphed data to show clicks over time.

Line graph overlay of reactions played with your content.
People ❤️ reactions.
You'll ❤️ the data.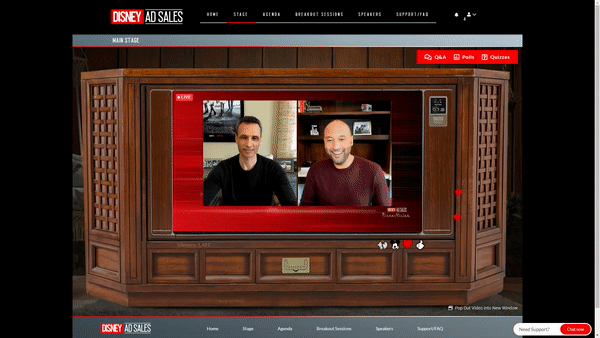 While you may miss seeing people face to face, one thing we gain is a wealth of data. Understand more about what really engages your attendees.
Lead generation.

Accurate, real-time picture of what's happening.

Who was at your event.

What events were attended by whom.

How long were they engaged

If they asked a question or participated in polling.

If they networked and for how long,

Who they chatted with and for how long.
​
​
Let's dive in deep on your goals and see where the data can lead us.
Breakout sessions can happen on the same site as all your other content, no need to switch to video conferencing.
​
As interactive as desired.

Easily create private rooms for side discussions.

Can be added to an existing website.

Play games with other attendees.

ROI in analytics from your event.

Full suite of presenter features:

Screen sharing.

Draw on screen.

Raised hands plus filtering.

Q&A and live polling.
​
Bring the energy of great networking to your virtual event. This tech allows for custom navigation through beautifully designed rooms.
​
Enter from virtual event lobby.

Once inside any format is possible.

Single space or rooms to choose from.

Can be broken down by topics or by size.

Attendees can be greeted by a host and chat via video.

Easily create private rooms for side discussions.

Attendees can be tagged and tracked.
​
​
Give your guests the gift of virtual networking that actually works. Let us show you how.
If you've ever felt alone while watching a webcast, we have an innovative fix. Our tech enables guests to watch a broadcast in full quality, while seeing their fellow attendees on camera.
​
Enjoy a broadcast while seeing other attendees at the same time.

Chat during the show about the program.

Catch people's reactions to highlight moments.
​
Now we can watch together, even if we're apart.
Exhibits exist to put your brand and product in front of an audience in a personal way.
​
Safe, encrypted virtual booths.

Live booth attendants via video.

3D rendered spaces attendees can explore.

Downloads, links and content hub.

Display informational videos.

Live demos on demand from a brand ambassador.

3D product demos.
​
Our custom features allow attendees to dive in deep with branded content.
Our custom coded platform has become a trusted pathway to engage your audience. This platform is designed to over-perform.
​
Registration, directories and content all in one online location.

Integrates seamlessly with many APIs.

Packages designed to meet your:

Budget​

Timeline

Feature set

Goals
​
We can help you find the perfect solution.
GREEN SCREEN ENVIRONMENTS
These environments are so versatile in virtual events and meetings. From the common uses, to next level production.
Drop in any background:

Your image​

Slide presentation

Company logos

3D rendered spaces
​
Ability to put remote speakers together.

Presenters in different locations physically appear in the same space.
Transform the experience with green screen magic.
Level-up your presenters.
PRESENTER SUPPORT PACKAGES
From a basic mic and camera to a standing green screen, we can get your presenters ready to go on-air from home.
Complete tech kits with multiple levels of virtual presenter support.

Full service speaker on boarding.

Confidence and tech checks.
Go beyond the virtual stage with this environment style. We fully consider all aspects of an IRL keynote environment. Every detail is dialed in, from large to small.
Speakers can present a slides and videos

Demonstrate products

Virtually invite the next speaker to the stage

Speaker tools like:

Slide preview

Speaker timer

Teleprompter

Live Q&A and audience polling
All controlled by off-stage support.
When the world went virtual, Brother printers knew they needed to adapt with a virtual product launch to showcase their new line.
Presenters appear on virtual backdrop using green screen technology and two cameras.

Three remote studio locations were fed back to our studio in New Jersey.

Locations were able to interact with each other in a news format.

Broadcast to over 1000 virtual audience.

Used Quicklink, LiveU and SRT technologies.​
Create a visual experience that shows your commitment to excellence.