7 Ways to Elevate Your Virtual Event
Sitting through a lackluster webinar or livestream was a right of passage in 2020. We've all been there, and that experience has jaded many of us. Let us be the first to tell you, virtual events can be amazing, and we see it as part of the hybrid future. Here are seven ways to elevate your virtual event to take a look at before planning yours.
Gamification and Leaderboards
Virtual FOMO is real, and it starts when you gamify your event. We've been bringing our interactive tech to events since we started, and an easy engagement hack we've learned is gamification. Our digital scavenger hunts for conventions and trade shows push attendees to explore the entire event website and learn along the way.
Trivia and polling can be easily integrated, with leaderboards to hold everyone's points. Nothing glues someone to their keyboard like seeing their name rise through the rankings of a company leaderboard. Everyone at the company is pitted against each other, and the bragging rights are enough to write home about.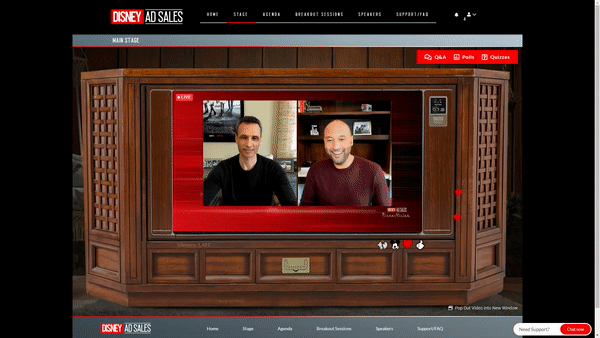 Reactions
Facebook and LinkedIn have reactions, why doesn't your virtual event? Our custom built real-time reactions offer audience feedback and a wealth of data. They can be custom to your event and provide branded insight beyond just likes and hearts.
Presenters can even see the reactions as they're on stage, providing the feedback that's sometimes missing from virtual. Taking a feeling you get in real life and tuning it for a digital audience is our specialty. Our reactions feature is our most popular offering right now.
Watch Parties
The loneliness of watching a livestream from your desk is real, even when you know others are watching at the same time. Enter watch parties: a way to see other attendees on video and view the program simultaneously. Behind the scenes we can control the experience, but viewers have the option of talking during breaks and seeing each other's reactions in real time.
Quicklink
Television broadcasts use a special server-based technology called Quicklink. By isolating individual streams with special hardware and software, we're able to get the highest quality signal possible. What that means is HD video and audio captured with basic equipment. For a broadcast leagues above the rest, Quicklink is the only option.
The Presenter Experience
If there's one thing we've learned this year, it's that a presenter can make or break the show. Providing a dialed-in, high-touch approach is the main way to get presenters ready and maintain their confidence through the show. To kick start the process, we do a tech audit and virtual site survey. We help them with lighting, and a background that doesn't distract from their message.
Once a presenter is on-boarded and their equipment is tested, then they're ready for rehearsals. We built a screen that holds presenter feeds, teleprompter, program and other custom widgets called the virtual green room. Paired with our remote slide advancer, your presenters will have all the comforts needed for an ease of flow.
Presenter Tech Kits
When the old Thinkpads won't cut it, let us send out equipment that works. Shipping a Pelican case with all the necessary machines preconfigured for your presenter is an easy solution if their tech is dated. We also have a "broadcast in a box" by Quicklink pictured here.
This revolutionary piece of equipment just needs to be plugged into power and connected to WiFi, our remote operators do the rest. When you need high-level production in a small package, there is no better way to present.